The Purpose
Eph. 6:18 "Pray in the Spirit at all times and on every occasion. Stay alert and be persistent in your prayers for all believers everywhere."
John 15:18-19 "If the world hates you, remember that it hated me first. The world would love you as one of its own if you belonged to it, but you are no longer part of the world. I chose you to come out of the world, so it hates you." You do not belong to the world anymore so some people that used to love you will not like you anymore. Deal with it and move on. John. 15:20-21,25 "Do you remember what I told you? 'A slave is not greater than the master.' Since they persecuted me, naturally they will persecute you. And if they had listened to me, they would listen to you. They will do all this to you because of me, for they have rejected the one who sent me… This fulfills what is written in their Scriptures: 'They hated me without cause.'" Jesus was quoting Ps. 35:19 [please read].
If you are for God, do not think there has to be another reason for people to dislike you. You are for God that is fine. More disciples of Jesus are dying today than at any time in history. Every month, two hundred and fifty-five Christians are killed just because they are Christians. One hundred and four are abducted. One hundred and eighty Christian women are either raped, sexually assaulted, or forced into marriage every single month. Yet people go to church, they are free to worship, and they complain about flimsy things. It just does not make sense really. Sixty-six churches are attacked every month. One hundred and sixty Christians are imprisoned every month.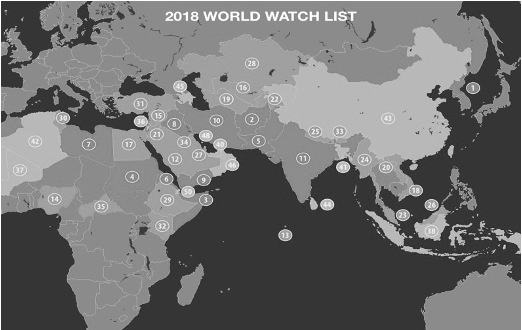 Inserted is a world persecution chart and you can see the zones where Christians are most persecuted. No.1 on the list is North Korea; there Christians are mostly butchered or put in labour camps. No.2 is Afghanistan. No.3 is Somalia. No.4 is Sudan. No.5 is Pakistan. Go and study your map because many of us are going to the nations to represent Jesus [say Amen]. And Nigeria is No.14, even higher than Egypt. Meanwhile, we often pray that God will execute judgment against the gods of Egypt. What about the gods in Nigeria?
Jesus says despite all the killings and persecutions, John 15:26-27 "But I will send you the Advocate—the Spirit of truth. He will come to you from the Father and will testify all about me. And you must also testify about me because you have been with me from the beginning of my ministry."  (emphasis added). The purpose of fruitfulness is about being a witness for Christ, but you cannot do it in your strength, you need the Holy Spirit.
Prayer: Father, please help and strengthen Your people in the nations, in Jesus Name. Amen!
Posted on Wednesday 20 October, 2021, in Abuse, Accountability, Acknowledge God, Align, All Nation, Choice, Christ, Church, Death, God, Soul Winning, Witnessing. Bookmark the permalink. Leave a Comment.